March 16, 2015 / cindybthymius
Today's blog post is about listening to God.
By nature, I am a very private person. I like to help others, be nice, and not show that I may need help. Yesterday as I was listening to Pastor Charles lesson (at home—the computer is great!), his sermon really hit home.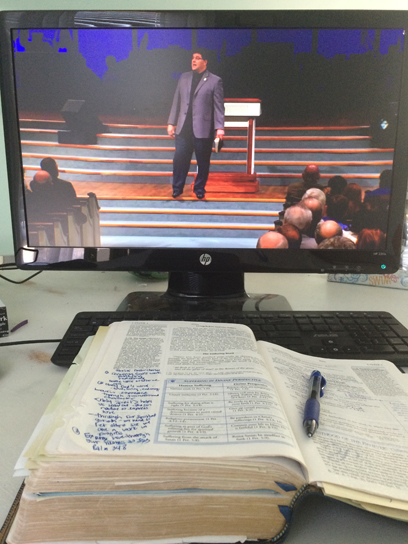 "We are to let others see we are a work in progress." Well, ouch.
The truth is…the past four months have been the hardest months of my life (minus The Growing Up Years but that's another story).
I turned 40. I attended my grandmother's funeral. Six weeks later, I watched my father pass away in my arms. I now am parentless. I'm an orphan. It's a very unsettling feeling…to have no one to call "mom" or "dad" (When I was 27 years old, my mother went into a coma; she officially passed when I was 32.) Every small piece of comfort I had known as a child had vanished. Almost.
My dad passed around the holidays, which, of course, is difficult. During this time, my husband's job required him to travel to half way around the world. My migraines increase.
My daughter's search for a college continued, and the next thing I know we are registering her for college, and we are registering my son for middle school. This is just too much because I'm overwhelmed in my grief.
We had the longest and coldest winter season I can ever remember. I feel that way physically, spiritually, emotionally…even with the temperatures.
I don't even know what my husband and kids were thinking about me. They probably wondered where their sweet wife and mom went. I tried. I really tried. All the while…I still had a business to maintain.
Then last week, my aunt contacted me and told me she was coming to my daughter's graduation. It was like that small glimmer of hope.
I heard For King and Country's "Shoulders" on the radio. (For Lent, I gave up listening to contemporary music.) SEE VIDEO HERE
Pastor Charles gave this sermon that really spoke to me about obeying God's word. How the Holy Spirit helps us. We aren't supposed to walk this journey alone. All of a sudden, I felt like God lifted me out of my days of mourning. The first note I took yesterday was "Receiving God's work is purifying and redeeming." The second note, "Obey God's word: true, living, enduring"
The last thing I wanted to do is share something so personal on my blog. But, it isn't about me. It's about sharing how God brought me out of my grief. How I listened and obeyed God.
For the first time in a long time, I truly felt happy yesterday. I enjoyed the little things. The Son (sun) was shining, and I felt peace and contentment. And, I know my parents are smiling up in heaven watching over me.
Yes…I am definitely a work in progress…and that's ok.
I think I'll end this blog with something my dad always told me growing up: "Tomorrow will be a better day youngin'" You know…I think he must be right.
Blessings and Peace,
Cindy
Thought for the day:
Jeremiah 29:11
"For I know the plans I have for you declares the Lord Plans to prosper you and not to harm you plans to give you hope and a future."