May 13, 2013 / cindybthymius
OK…I'm a little excited. Lots of things have been happening this year! God has blessed me so greatly this year! I'm THANKFUL to see my images appear in videos and print publications this year. I was thrilled with THE BAREFOOT BRIDE used my Memphis Wedding Photographer image from Matt and Emily's wedding (blog post here) for their ad space in the 4Memphis Magazine that is found in stores and restaurants all throughout Memphis! In case you don't know, The Barefoot Bride is an awesome wedding gown boutique in the Memphis area that sells new, sample, and consignment wedding gowns for 30-80% off the retail price. Yes, you read correctly! Emily purchased her wedding dress from the Barefoot Bride, and the rest, as they say, is history :). I love it when God makes all these wonderful connections happen!
To view the Barefoot Bride's website, click here: LINK
To view the 4Memphis Magazine website, click here: LINK
to view my Memphis wedding and portrait site, click here: LINK

Thank you, Lord, for your abundant blessings!
(My image is the top left image, in black and white)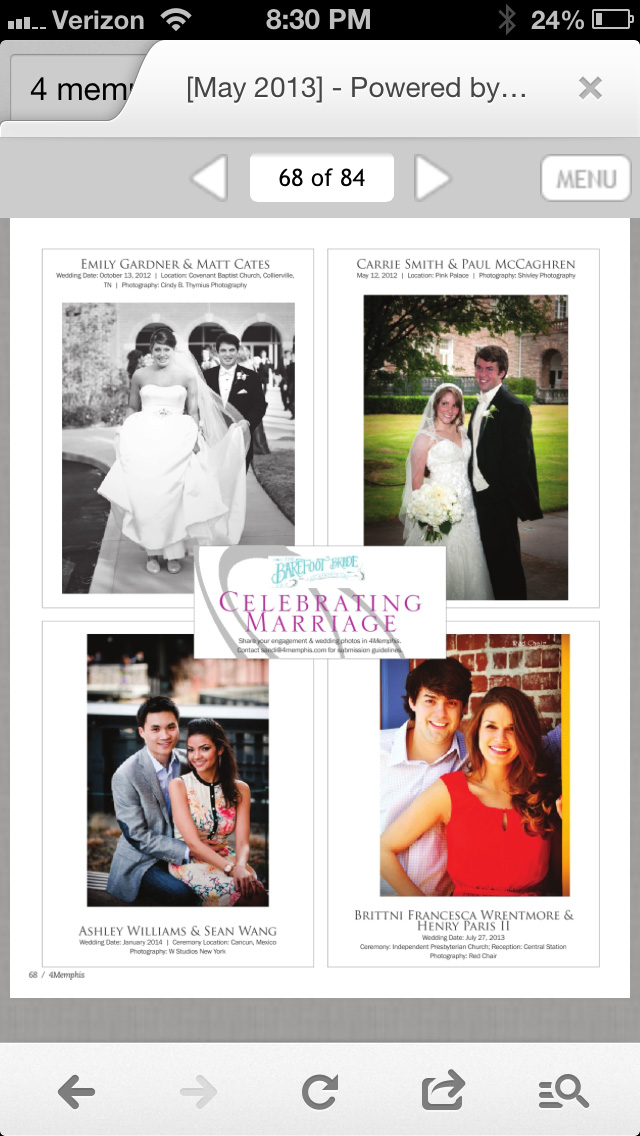 Blessings and Peace,
Cindy
Thought for the day:
Phillippians 4:19
And this same God who takes care of me will supply all your needs from his glorious riches, which have been gives to us in Christ Jesus.