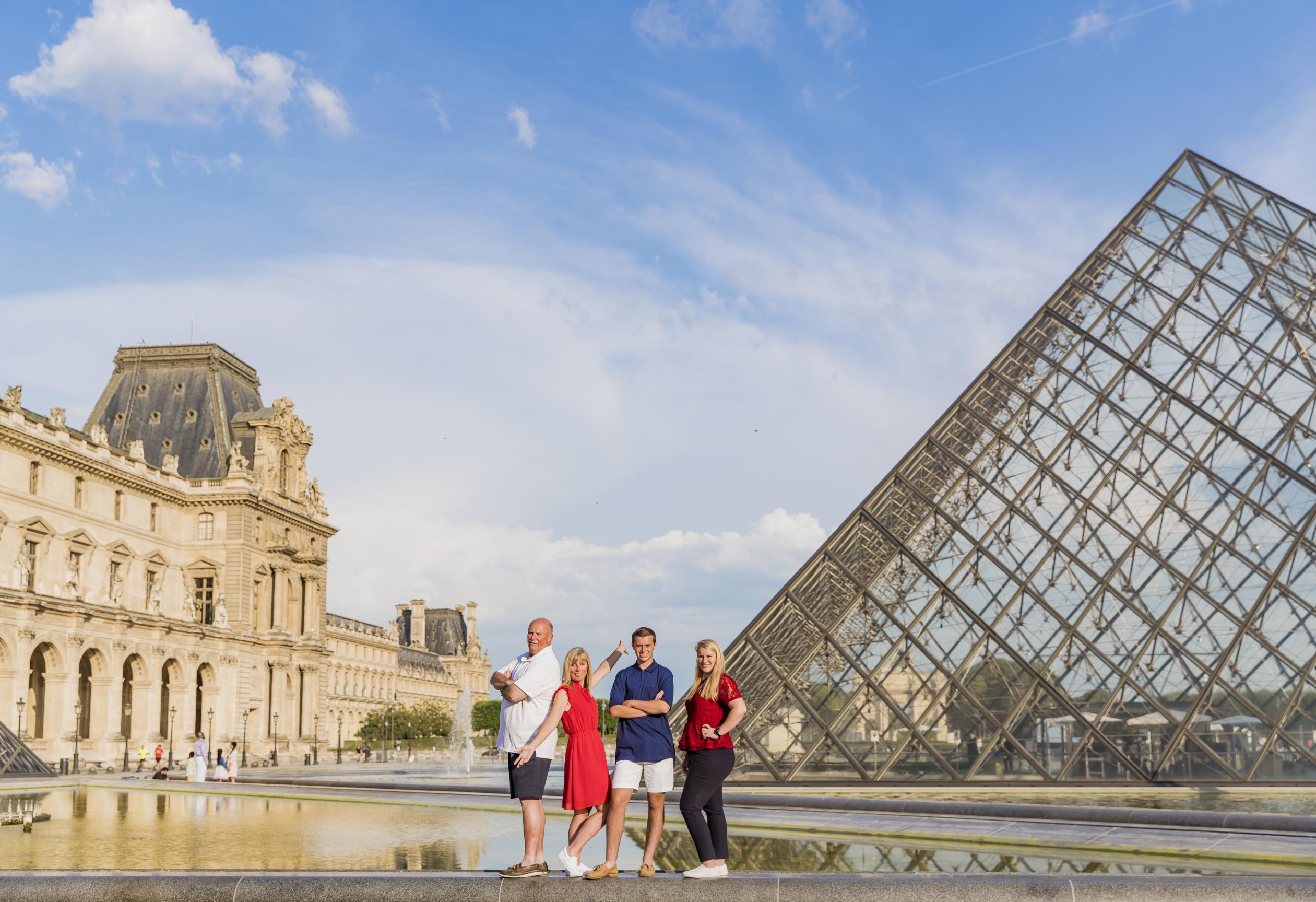 July 23, 2019 / cindybthymius
I've been a professional photographer since 2003, and it's sort of been our family's personal "goal" or mission to have our family portraits taken every year.  We've been very diligent about it, and I love looking at our family gallery wall.  Not only is it important to have these photos for our family, but it is also a good reminder for me as a professional photographer to experience what my clients go through as they go about the day of getting their portraits made.
The first thing I want you to know is I KNOW IT ISN'T EASY.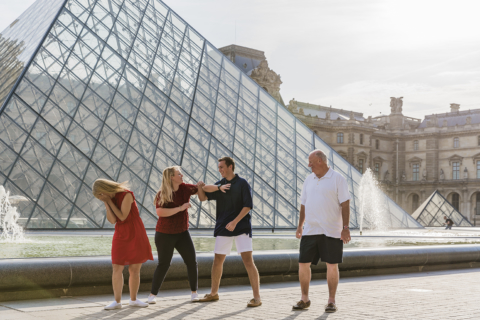 Step one: Find a photographer in a foreign country.  Fortunately for me, I am a member of several photography forums, and I just put it out there that I was looking for a photographer in Paris, France.  I received several recommendations.  I checked their style, availability, and price points.  After communicating with a few artists, I found our photographer.
Next, we had to decide what to wear, and that in and of itself IS A CHORE.  Once we battled that hurdle, we just had to get to Paris.
We had agreed upon a shoot time of 8am, but a few days before the session, our photographer changed it to 7am.
7am people.  Now, let's read on.
We are in Paris, and we check with our hotel to confirm that taxis will be outside the morning of to take us to our destination.  We feel like we are good to go.
THE DAY OF THE SESSION.
I get up at 3:30am to take my shower.  The rest of the family follows suit, so we can be ready downstairs by 6am, so our taxi can take us to our location.
We go outside, and guess what?  NO TAXIS are outside.
We go back inside the hotel, and no ubers or taxis are available because it is a Monday morning, and they are too busy taking people to work.  The hotel clerk from the night before misinformed us.
Now, the good part is our hotel is connected to the train station.  The bad part is the way we learned is closed because it is so early.  So we have to go back outside and figure out which opening takes us to the train that will take us to Eiffel Tower.
In the meantime, I am trying to contact my photographer, but I can't call a France number, and my What's App isn't connecting to her.  I'm emailing her to tell her that we are coming, and I hope she receives it.  At this point, I am confident we aren't going to make our 7am shoot time.
So, we finally make it to our train gate, but it won't read our train ticket.  There is no agent on duty, and the machine won't read our credit card to issue us a new ticket.  (Are you sensing my panic yet?)  A Parisian man must have sensed my mom freaking out face because he used his card to let us on the train.
At 7:05, we are on a train (a full hour after we started the process and the time we are supposed to be at the photo session).  The train will get us to Trocadero right at 7:30.  The photographer has emailed me once asking me where I am.  She finally gets my first panic email, and tells me she has other appointments and to be there no later than 7:30.  Ok.  I am not freaking out at all (lie, lie, lie).
So, at 7:30 on the dot, we arrive at Trocadero, where the lovely view of the Eiffel Tower is.  Somehow I manage to breath, smile, and not yell at my kids and husband 5,000 times even though on the inside I am screaming!!!!
When we arrive at Trocadero at 7:30, there are a few photographers there, and there is a film crew from the UK filming for Kentucky Fried Chicken.  (So, go support KFC if you are in Australia!).  There are ZERO tourists there at 7:30 in the morning, so no photoshop involved here for those asking!
Our package included 3 photography spots, so we finish up at Eiffel Tower, and we have to find more transportation.  We call an UBER, and we go to The Louvre.  There are more people at the Louvre but by the time we make it there, it isn't too bad.
When we leave The Louvre, we had a more challenging time with transportation.  The taxi driver said flat out that he didn't want to take us to Notre Dame.  Well, alrighty then!  Fortunately we had euros to ride the bus there.  A short ride later, we are there.  But by this time, even my pro older kids are DONE.  They are tired, hungry, and over the photo session.  I try to appease them, bribe them, beg them, but I am out of options, and we just call it even though we had more time with our photographer.
So, all of this to say, I know it isn't easy to have your photos made with a professional photographer.  I literally got up before the sun, prepared months in advance, coordinated everything for everyone, panicked like you do, ran into problems the day of, dealt with uncooperative kids, and I look at these photos, and I know beyond a shadow of a doubt I will treasure them for a lifetime.  I'd go back and do it again in a heartbeat.
Here's to family photo session adventures!  What are you waiting for–schedule yours right now.
xoxo,
Cindy
Photos by: Lucia Neri